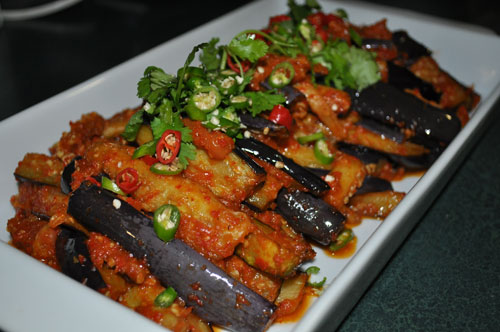 Sambal Eggplant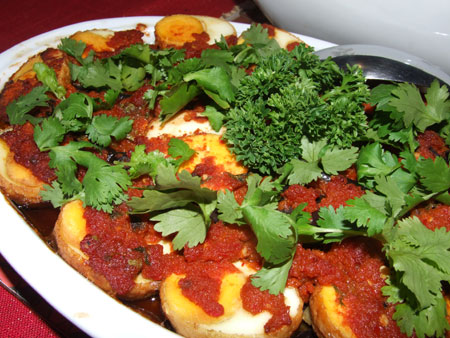 Sambal Egg
Ingredients:
(You can have either eggs or eggplants)
8 hard boiled eggs, deep fried and cut in two
or, about 500gr eggplants, cut into pieces and fried or baked
Enough canola oil
Put these spices into food processor and process into a smooth paste:
6 long red chillies
5 small chillies
1 medium spanish onion
3 garlic
2cm belacan
1 medium tomato
1 lemongrass
1 cup water

Soy Ingredients
3 tablespoons Indonesian sweet soy as needed
1 teaspoon Tamarind paste
2 teaspoon castor Sugar
Juice of 1 lime

Garnish ingredients (optional)
Chopped small chillies
Chopped coriander leaves
Methods:
Heat the oil in the pan on a medium heat, stir fry the smooth spices till fragrant for about 3 minutes or until a thick paste forms.
Reduce the heat and add the soy ingredients.
For Eggplant
Add the eggplant and make sure they are thoroughly coated in the chilli sauce.
Transfer to plate and garnished with chopped coriander leaves and chopped small chillies.
For Egg
Cut egg in half and set on the plate and topped with the chilli sauce, garnished  with chopped coriander leaves and chopped small chillies