Chai  Green Latte ala LiaDella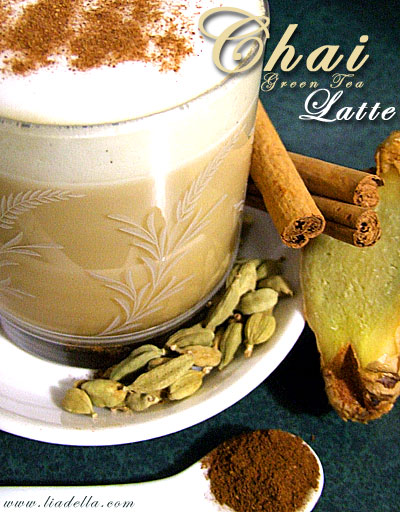 Chai Green Tea Latte for two or three or four people 😛
* 5 cups of water
* 2 stick cinnamon and
*2 star anise
* 3cm fresh ginger
* 1 teaspoon cardamon pods
* 1 teaspoon clove pods
* 4 tablespoon raw sugar
* 5 tablespoon loose green tea leaf or 3 table spoon loose black tea leaf
* 2 cups of full cream milk
Method:
1. Place water in a pot,bring to a boil.
2. Add cinnamon,ginger,cardamon,clove -cover and simmer for 15 mins
3. Add sugar and simmer for 5 mins
4. Remove from heat, add tea leaves, steep for 2 mins,strain to a tea pot.
Then all you have to do just pour it to your cup and add the steamed milk and dust it with cinnamon powder…
It's taste so fresh and so relaxing 🙂
If it too strong you can add more hot water or hot milk.