Coconut Rice Complete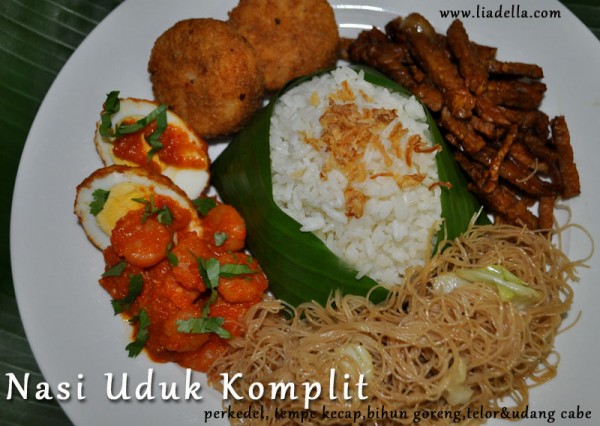 Coconut Rice Complete with Perkedel, Fried tempeh, Sambal egg and Fried rice vermicelli noodle
Ingredients:
3 cups jasmine rice or a good quality long grain rice, wash twice and drain.
400ml coconut cream
150ml water
1 tea spoon salt
3 bay leaves
2 kafir lime leaves
1 lemongrass
2 pandan leaves -tie in knot
Method:
Cut lemongrass in half-length wise, place under flat end of a knife blade and crush.
To cook in the rice cooker:
Add all the ingredients and cook as normal. Remove leaves and serve.
To cook traditionally: (more work but fluffier nice rice)
1.Place all the ingredients in the pan EXCEPT rice and bring to boil. Once boiling add the rice and cook until all the liquid is absorbed.
2.Take rice mix out of pan and place it to a steamer and cook for 20-25 mins -stirring occasionally ( make sure the water doesn't boil dry in the pan below )
3.Remove the leaves and serve.
Peanut Chilli for coconut rice (optional)
Put all this ingredients in a blender:
100 gr roasted peanuts
2 big chillies
5 small chillies
1 tsp salt
1 tbs sugar
1 tbs white vinegar
200ml water