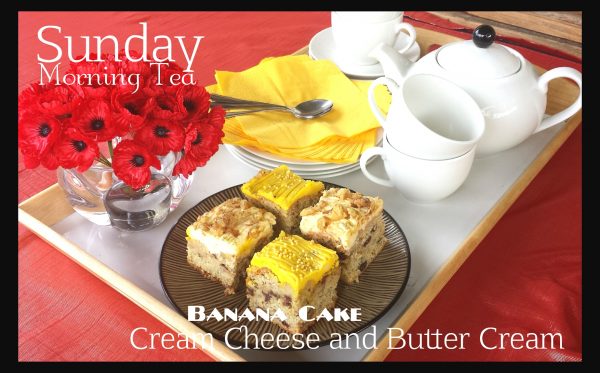 My variation of Banana choc chips cake with cream cheese frosting and butter cream frosting.

Banana Choc chips cake with yellow butter icing frosting topped with edible glitters.
Ingredients:
125gr butter, room temperature
1/2 cup caster sugar
2 large free range eggs
2 cups self raising flour
1 teaspoon bicarbonate soda
1/4 cup of full cream milk
1 teaspoon vanilla extract
3 large banana (mashed) about 400-450 gr
1/2 cup choc chips (can be milk chocolate or dark chocolate)
Method:
-Preheat the fan forced oven 170c
-Line the loaf cake pan with baking paper, (add little bit of water to stick the baking paper on the tin) -set aside.
-In a bowl add the butter and the eggs, using an electric mixer, beat for 3 mins (high speed)
-Add the egg, beat for 1 min (high speed)
-Add the flour, bi-carb soda and beat for 1 min (low speed)
-Add the milk and vanilla extract beat for another 1 min (low speed)
-Add the mashed banana beat for 1 min (low speed)
-Add the choc chips until combined.
-Pour into the loaf cake pan, bake for 40 mins or until a skewer inserted into the centre comes out clean. Set aside in the pan for 10 minutes to cool slightly, before transferring the cake to a wire rack to cool completely.
-Spread the frosting over the top of the cake.
BUTTER ICING Frosting:
150gr butter room temperature
2 cups icing sugar
1 teaspoon or as needed yellow food colouring
-Using an electric mixer, beat butter in a bowl 2 mins, add icing sugar, beating constantly until combined. Beat in food colouring, until combined.