Malaysian Nyonya Laksa with Chicken
Laksa is a spicy coconut-based noodle soup. Originally comes from Chinese and Malay cuisine. There's a lot of variety of Laksa, In the Island where I was born they call it Lakso (its spicy curry fish noodle soup, and we use rice noodle starch for the noodle)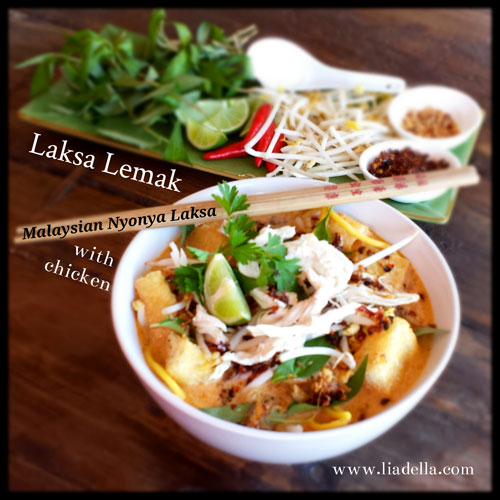 Laksa Lemak/Malaysian Nyonya Laksa with Chicken
For 4-6 people
Ingredients:
3L water
1 chicken frame
1kg chicken breast
400ml coconut cream (double quantity for creamier soup) – I use double quantity
100gr beans sprouts
200gr – 500gr cooked rice vermicelli or cooked Hokkien noodle
100gr tofu puffs
¼ cup peanut oil
Sugar as needed – I am using 3 tablespoons.
Salt as needed – I am using 2 tablespoons.
Garnish:
Vietnamese mint (Laksa leaves they call it) roughly chopped
Bawang Goreng (Fried onion) 8 Asian Shallots (French shallots) finely sliced, deep fry until crispy. (you can omit this and have shop bought fried onion)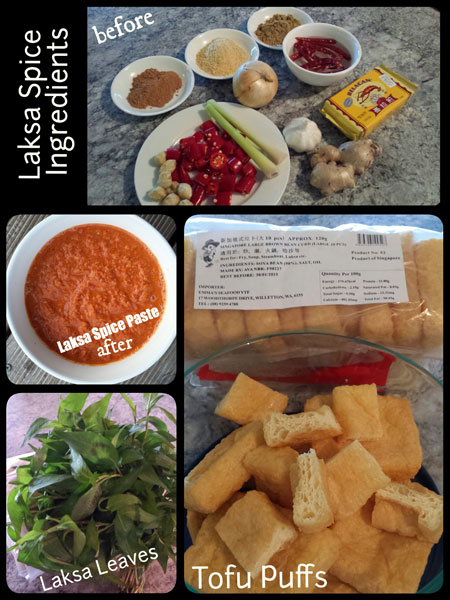 Laksa spice paste ingredients (grind all the ingredients in a blender or food processor till form a fine paste)
8 Asian onion (French shallots) or 1 large size brown onion
6 garlic cloves, peeled
3cm fresh young ginger
3cm fresh galangal or 1 tablespoon galangal powder
2 lemongrass, white part only , chopped finely
6 dry red chillies, soaked until it soft
3 fresh big red chillies, seeded and chopped
5 candlenuts
1 tablespoon belacan (dry shrimp paste)
2 tablespoons dry shrimp, soaked in boiling water for 5-10 minutes then drained or 2 tablespoons crushed dry shrimp.
1 tablespoon coriander powder
1 cup water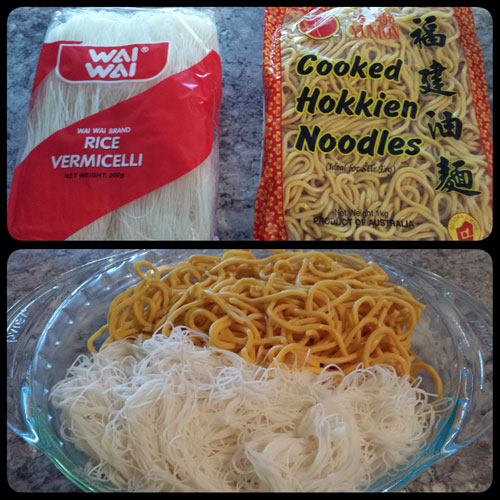 Method:
Soup
(While the chicken is cooking, prepare the spice paste)
Bring around three litre of water to boil, adding in the chicken frame and the chicken breast pieces. Simmer for 20 minutes, turning off the heat at this point and covering the pot with a lid. Allow to sit for a further 20 minutes.
Remove frame and any bones and shred the remaining chicken and put aside.
Bring broth back up to simmer, stir-fry the spice paste with the canola oil until fragrant and thick (about 8 minutes) and add to the chicken broth. Taste and add salt and sugar as required and then add the coconut cream.
Keep simmering for another ten minutes.
Presentation
Add noodle, bean sprouts, tofu and shredded chicken to a deep bowl. Pour the hot soup mix over and serve garnished with chopped Vietnamese mint and fried onion.
note: If you want to use seafood instead of chicken, you still need to make the chicken broth using the chicken frame. Prepare the laksa as normal. Once everything is combined and you are heating up the completed soup again, add the raw seafood and cook for approximately five minutes until cooked, then add to the serving bowl with the noodle mix.