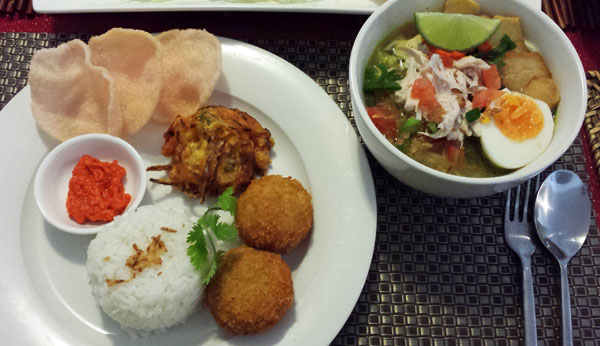 Ingredients:
1kg mixed chicken pieces
2 Lemongrass, crushed
3.5L water
8 kafir lime leaves
2 Bay leaves
5 tablespoons canola oil
salt and pepper as needed
Spice Paste ingredients:
(blend all the spices in a blender)
1 big brown onion chopped
8 cloves of garlic
6 candlenuts
4cm fresh ginger
1 big lemongrass, chopped
2 teaspoon turmeric powder
2 teaspoon galangal powder
2 teaspoon coriander powder
½ cup of water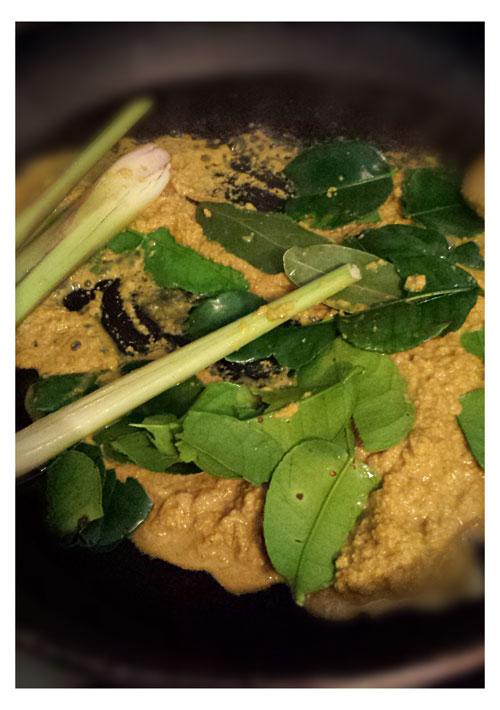 Extra Ingredients:
(Do all these while you are waiting for the chicken to cook)
Hard-boiled egg, sliced
Diced tomato
Sliced fried potato
Cooked vermicelli noodle
handful fresh beans sprouts
2 handful finely chopped cabbage
1 lime cut into pieces
shop bought fried onion
Garnish: Chopped celery and chopped spring onion
Method:
-Boil the chicken over medium heat for 30 mins or until the chicken is cooked.
-Transfer the cooked chicken pieces into a plate, let it cool and shred the chicken, leave the chicken stock to stand.
-In a small saucepan heat the canola oil over med heat add the spice paste, crushed lemongrass, kaffir lime leaves, bay leaves and cook for 5 mins then pour the paste to the chicken stock.
-Return the shredded chicken to the stock, stir, add salt and pepper as needed.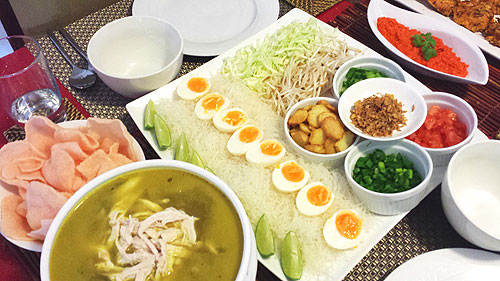 To Serve
Place roughly one handful of cooked vermicelli into a bowl, pour the soup mix over and garnish with boiled egg, diced tomato, sliced fried potato, chopped cabbage, bean sprouts then garnish with fried onion, chopped celery and chopped spring onion.
Squeeze the juice of a lime over the top.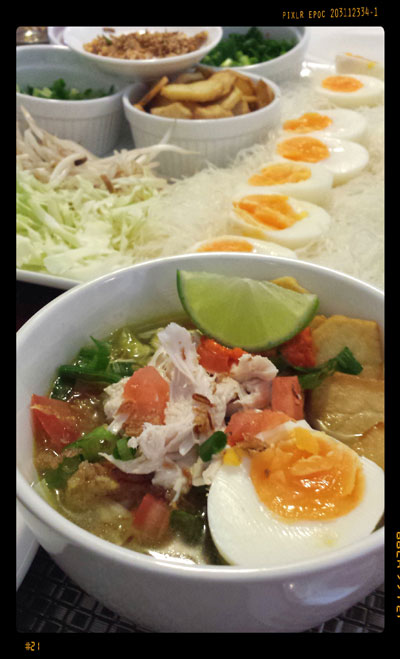 Soto Mie Chilli:
10 Large Chillies
10 bird eye chillies (optional)
6 Candlenuts
6 Garlic Cloves
Half cup of water
Salt and Sugar as needed
4 + 2 Tbs Canola Oil
Directions:
Blend all the ingredients except the canola oil in a blender or food processor until a smooth paste is formed. Heat 4 tbs oil in saucepan and pour in the mix. Cook until the mix thickens.
Taste as you go adding salt and sugar as needed.
Reduce flame then add extra 2 tbs canola, cook for one minute then remove from heat and leave to stand.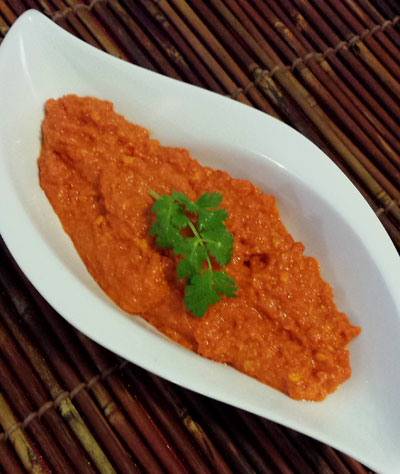 Serve accompanied with (optional) :
Steamed Rice
Vegetable Fritter (Cabbage, bean sprout and carrot)
Potato Fritter

Top: Vegetable fritters
Bottom: Potato fritters