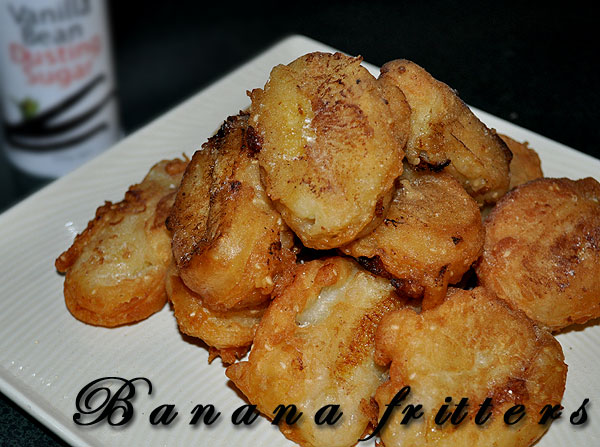 You need : 10 ripe bananas.(each banana can be cut into 2 or 3 part)
Combine all the Batter ingredients in a bowl :
1 cup plain flour
2 tablespoon sesame seeds
2 table spoons fine desiccated coconut (u can omit this if u don't like coconut)
2 table spoons white sugar
1 tea spoon baking powder
1 cup water (OR u can use 1 cup of coconut milk instead)
EXTRA:
Vanilla bean dusting sugar (optional)
or your fav ice cream ice cream (optional)
How to fry :
-Enough canola oil for deep-frying.
1. Heat the oil until very hot,dip the banana piece in the batter to coat thoroughly.
2. Deep fry the banana, turning occasionally, until golden brown and crispy.
3. Remove and drain on the paper towel , and transfer to a serving plate.
To serve: dust with vanilla bean dusting sugar (optional) and any your fav ice cream (optional)
ENJOY!!