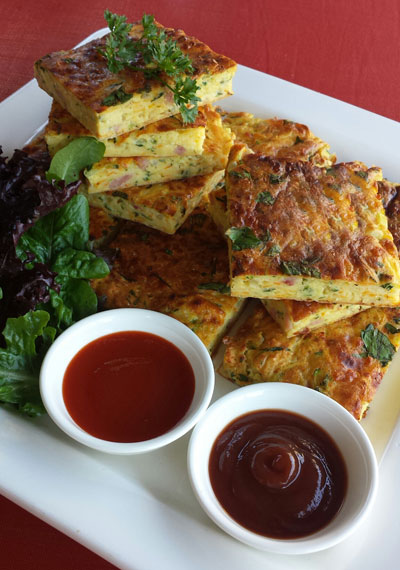 Ingredients:
1 large Zucchini,grated
1 med size carrot ,peeled, grated
5 eggs
1/2 cup chopped onion
2 cloves garlic crushed
salt and pepper as needed
3/4 cup self raising flour
1 tablespoon olive oil
1/2 cup tasty cheese,grated
1/4 cup parmesan cheese
1 1/2 cup bacon diced (optional) -leave out the bacon for a vegetarian.
1/4 cup chopped fresh parsley (optional)
Method:
Preheat pan forced oven 180c
Grease a rectangular pan with spray oil or butter
Mix all the ingredients in the bowl and pour into the pan.
Bake in oven for 25 mins.