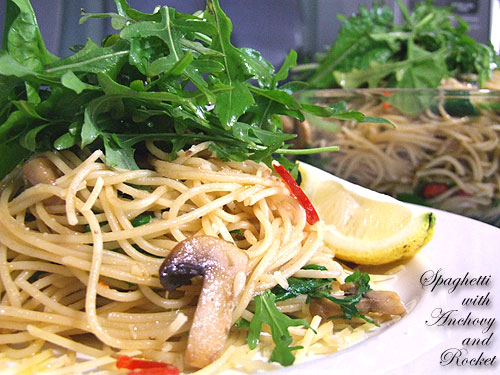 Original recipe from my fav Chef Jamie Oliver – I put extra mushroom 🙂
Ingredients:
• 4 tablespoons extra virgin olive oil
• 1 clove of garlic, peeled and finely sliced (mine,4 garlic)
• 1 dried red chilli, crumbled ( mine, 3 big chillies)
• 4 anchovy fillets in olive oil ( mine heaps of anchovy hm hm.. saltyyyyyy…)
• 3 handfuls of wild rocket
• zest and juice of 1 lemon
• 500g dried spaghetti
sea salt and freshly ground black pepper
100g Parmesan cheese, grated
Heat a wide saucepan or frying pan over a medium heat and add the extra virgin olive oil. Add the garlic, chilli and the anchovy fillets and fry gently for a minute or so. Add 2 handfuls of the wild rocket with the lemon zest and juice and then remove from the heat. The rocket will wilt from the heat – mix it well with the garlic, chilli and anchovies.
Meanwhile, cook the spaghetti in plenty of salted boiling water, according to the packet instructions, and drain. Tip into the saucepan and toss together with the rocket and chilli sauce. Season well with salt and pepper and serve with some of the reserved fresh rocket and the grated Parmesan on top.
The result?? THIS IS THE BEST PASTA EVER!!