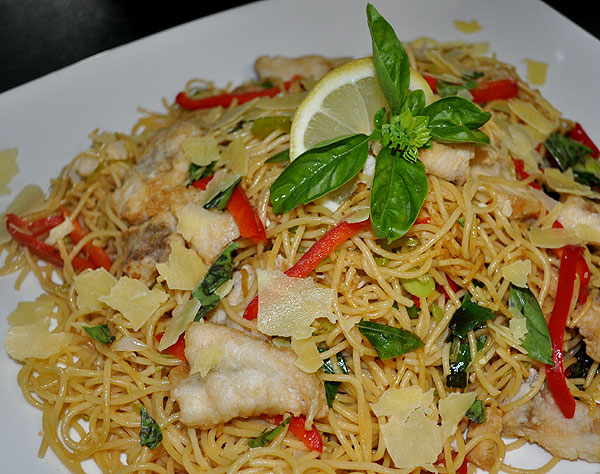 We got the leeks,basil and jalapeno chillies from the back garden :))
So this time, I feel like to eat fish and leek spaghetti and I come up with this easy quick pasta that so tasty and spicy!
You need:
400 gr Barramundi , cut into pieces. (on the bowl: 3 tablespoon rice flour and a pinch of salt.)
Dip the fish into the rice flour , evenly , and fried. set aside
500 cooked spaghetti
3 garlic,crushed
3-4 jalapenos ,sliced
1 cup sliced leeks
1 cup red capsicum,sliced
1 handful basil,torn
juice from1 lemon
Enough parmesan flakes.
About 3 tablespoons extra virgin olive oil
Salt as needed
– Heat oil in a pan over medium heat, add the garlic,leeks,and the jalapenos,stirring occasionally until soft.
-Add the pasta , reduce heat to low and mix them all up, add salt.
-Add the fried barramundi and the capsicum mix all up, stirring occasionally and add the basil, add the lemon juice. turn off the heat and then plate it.
Garnish with fresh basil,Parmesan cheese and more lemon juice if u prefer.