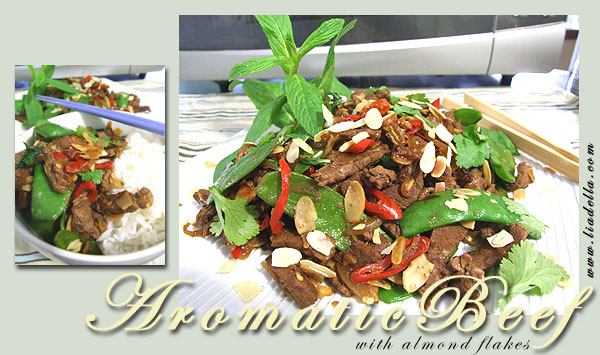 Aromatic Beef with almond flakes – cukup untuk 5 orang dewasa makan dengan nasi putih tentunya.

Spices:
1 spanish onion,chopped finely
4 garlic,chopped finely
3 hot long red chillies,sliced thinly
1 stick fresh lemongrass,bruised
2 star anise
1 teaspoon cardamon pods,bruised
1 cinnamon stick
salt as needed
Vegetables:
2 cups snow peas
1 cup vietnamese mint,leave 1 tablespoon for garnish
1 cup coriander leaves,leave 1 tablespoon for garnish
½ cup roasted almond flakes,leave 1 tablespoon for garnish
Sauces:
Fish sauce as desire
Sweet soy sauce (kecap manis) as desire
Heat the wok and add about 3 tablespoon peanut oil,stir fry beef until browned.
Add all the spices,stir fry about 3 mins and fragrant.
Discard star anises,cinnamon and cardamon.
Add all the sauces,salt stir fry for 1 mins, add the snow peas-stir fry until heated through.
Remove from heat,stir in vietnamese mints and coriander leaves and almond flakes.
Don't forget your garnish!
[adwords]