Thomas and Cameron suka banget makan daging cincang di oseng2 gitu,awal2nya mereka nyobain mie ayam gw,setelah itu mereka makin ajah suka ajah mie ayam gw.. jadi kemaren gw pikir bikin daging cincang ditambahin kentang goreng dan wortel dan daun bawang, sausnya sih cuma kecap manis dan kecap ikan.. jadinya enak juga.. TC makan lahap sekali…gw heppi bgt yg penting ada lauk yang Thomas suka besides Chicken nuggets and chips!!

By the way even gw ikutan makan.. gw tambahin cabe rawit he he he ..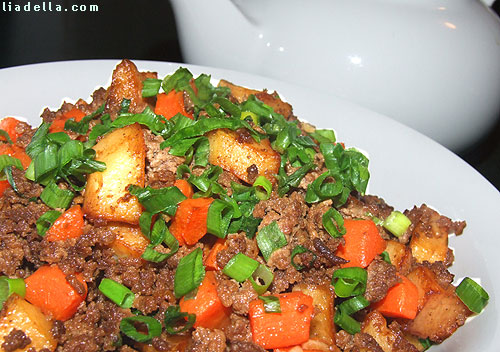 Oseng2 ala TC
Putri (ade gw) suka ama labu dan lobak.. kadang kita makan sayur sop lobak sayur asin..pake pork filletnya steam boat itu lohhh (ntr ya gw bikin lagi n gw taro di blog.) Sup lobak sayur asin termasuk lauk yg enak buat dimakan winter.. tapi TC nga akan makan..so paling2 bikinnya cuma buat gw and Putri ajah.. terakhir kali bikin Stu makan juga sih tapi nga selahap kalo dia makan sayur2 gw yg lain.. seperti kari2/rendang or ayam goreng dan sate.. maklum deh bule kan demen sayur yg "kaya akan rempah2 Indonesia" (hahaha.. bhs nya ..)
Jadi gw pikir sekalian ada sisa daging cincang gw bikin oseng lobak ama labu pake cabe ijo..dan kecap ikan ajah.. seger juga jadinya…walopun super pedessss….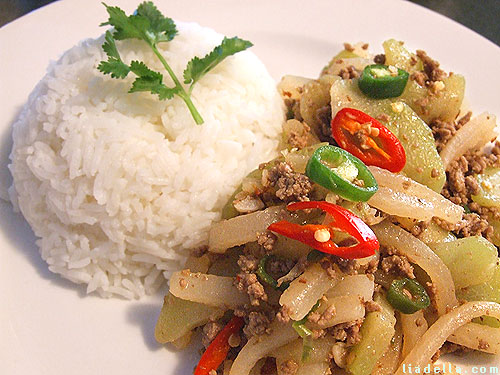 Oseng lobak dan labu cabe ijo