Akhirnya gw bikin juga nih kesukaan gw dan ade gw.. Hainan chicken rice.. hehehe It was so easy to make.. but since I am so perfectionist (cape deh..) so motong ayam nya pun harus ada background music mozart ha ha ha.. alias musti tenang2 gitu.. well.. potongan ayam jadinya bagus dan rapi gitu… 🙂
I made all from the scratch !! So.. I was so pleased when everyone enjoy it!! I made the ginger sauce and the chilli sauce for the complete hainan chicken. so no instant powder okay.. huehehehehehhe ..(cape deh kalo gw lagi norak..) biarin aja.. kan blog2 gw.. huehhehehe..
Nga lupa thanks to Adri for her inspiration and her Support during the making of hainan chicken rice.. soalnya dr dia juga gw bener2 maju tak gentar pingin bikin my own hainan chicken… iya nga Dri??? 🙂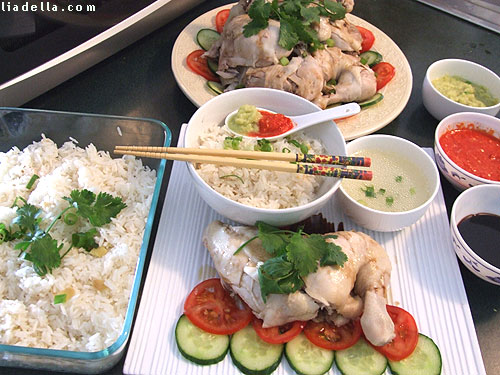 Hainan Chicken Rice Complete
Speaking of Adri again.. She told me to make bubur dr rice cooker (jgn di tutup ya masaknya),dan hasilnya TOKCER bangetttttt halus bgt buburnya (kalah bubur abang2) dan juga nga usah capek2 ngaduk2 di panci! bener2 deh lu dri… pinter2 ide2 lo ya..
Ini bubur juga kegemaran kita2 disini.. soalnya enak sih ya apalagi kalo makan pagi2 hm.. hm.. enak bgt deh.. crita masak bubur ini gara2 di Jakarta di rumah tante gw makan bubur home made dia.. tapi instead of bubur ayam yg biasa di jual di indo.. dia bikin bubur biasa tapi pake daging cincang di taro di atas buburnya.. ini hasilnya.. walopun cakwe itu mah tambahan gw beli di toko asia he he he, oh iya saos2 nya mah terserah masing2 ajah.. kecap ikan ato kecap manis,ato kecap asin sesuka selera masing2, plus taburi bawang goreng.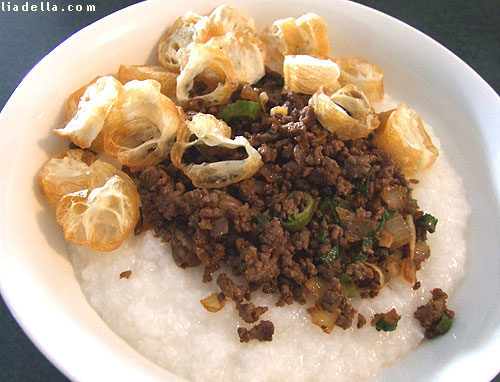 Rice porriage with mince meat and cakwe