Nga terasa udah mo wiken lagi, cepet banget waktu berlalu, anehnya kalo kita nga ada hajatan rasanya cepet banget deh jalannya ni waktu ,giliran kita ada hajatan lamaaaaaaaaaa bgt jalannya seperti menunggu 8 bulan menjelang pernikahan gue n Stu kemaren itu.. buset tuh 8 bulan jalan seperti siput.. tapi akhirnya nikah juga siy.
Bulan depan di ajak Ari ke pesta Galungan-hari raya org Bali di Jandakoot ya Ri? pingin juga sih dateng, sekalian sosialisasi gitu, mumpung ada yg gue kenal also ntr ktnya ada tari2 Bali nya juga plus makan2, satu famiy bayar 15 dol (kalo kita ber 6 teteb nga tuh Ri 15 dol? hahah? ) gile kalo familynya 10 org gimana tuh? hahaha 😀
I have been cooking all week.. proper food, with free range eggs hahah.. (Influences by Mr.Oliver di TV abis kata doi beli free range ajah soalnya better for your health walopun harga bisa 3 kali lipat bo!!) tapi emangggg sih rasanya beda plus warnanya kuning telornya juga beda, mungkin kalo ayam free range lebih hepi bisa joget2 makanya itupun kenapa kalo bikin kue harus hepi kaya ayam free range biar kuenya kaga bantet hahahah.. (damn u bolu kukus.. I was happy when gue bikin bolu kukus tapi kenapa pula bolkus gue pada bantet?? kata gossip2 internet org2 suka kena kutukan bolu kukus) well kata Stu dasar org indo percaya bgt ama gitu2an hahaha..
Anyway.. iya nih dari hari senin kemaren ampe hari ini gue masak terus.. walopun kita disini masak palinggg banter plus rajin ya 2-3 dishes a day but 1 dish a day ajah mnrt gue dah bagus deh not only save money on freakin junk foods but also home made food always taste better and healtier. (I think everyone agreed..:) )
Some dishes I have made just usual like Spicy Tuna, Indonesian Teriyaki Chicken,*new* Aromatic Beef with almond flakes,Nasi Goreng,Cottage Pie,Chicken satay. Also I made some Profiteroles with custard, Apple Cinnamon Muffins,*new* Chai Green Tea Latte for this week desserts.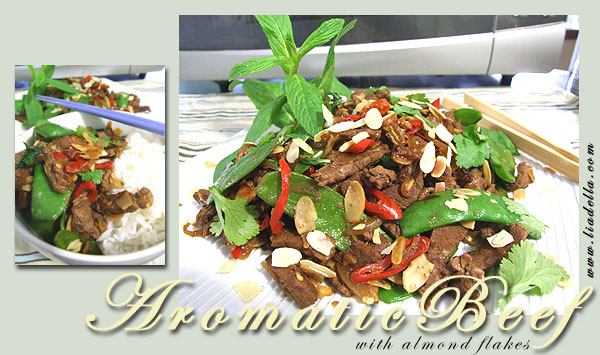 Sprinkle with tossed almond flakes,vietnamese mint and coriander leaves.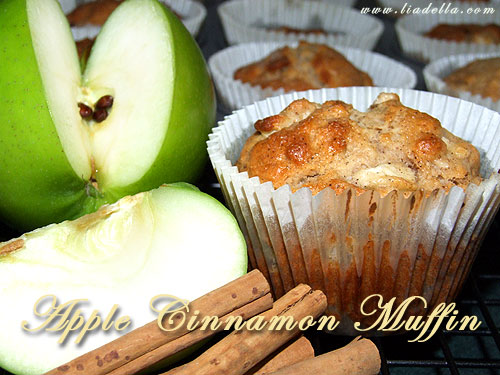 Dust the muffin with vanilla sugar (beli udah jadi di woolish) hm hm.. tambah deh enak.. makan anget2 ama minum kopi or teh.
I enjoy being a house wife at the moment 🙂 even though I am addicted to some TV series hahaha.. but I looking after husband and the twins very well :).
Oh speaking of the twins,kadang kalo liat2 mereka gue pikir duh anak2 gue dah gede bgt ya.. udah mo 8 tahun, nggak terasa aja 8 thn yg lalu gue sibuknya ampe mati2an.. dari pagi sampe malem nga abis2nya.. tapi sekarang seperti melihat pohon yg kita tumbuh jadi gede hahaha trus bagus lagi enak ajah liatnya apalagi mereka cowo gitu…mikir ntr kalo gede pas teenager moga2 nga nakal deh.. (amin) trus mikir ntr dah gede masih mau nga ya gue peluk2 hahaha makanya setiap hari gue peluk2in deh gue liatin abis kadang kangen juga ama waktu2 mereka kecil, lucunya kalo mereka lagi main bedua ya ampunn.. ni anak siapa ya.. kok cakep2?? hahahha
*gue akhir2 ini mimpi tentang seseorang di jaman SMA aneh juga kenapa gue mimpiin dia ya walopun mimpinya nga ber inti jadi nga ada critanya gitu cuma dalam mimpi ada dia ajah and kita ngobrol2, aneh padahal gue udah nga kontak2 dia lagi*
-Afternoon-
Chai Latte is spiced tea mixed with milk that's steamed from a coffee machine. Its one of my sister and I favourite drink during our Gangan Time 😀
The story behind the chai latte:
One day Put got home and made her hot drink, I looked at it and I said "euww.. what is that?" smell weird but sweet,she let me tried it and hm… taste so good! then I found out home made chai is so easy to make and taste so fresh than the packet ones.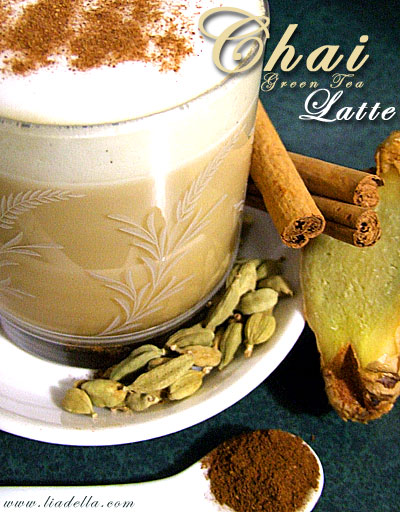 This is so gooddd.. better than we normally drink ka'! -putri-