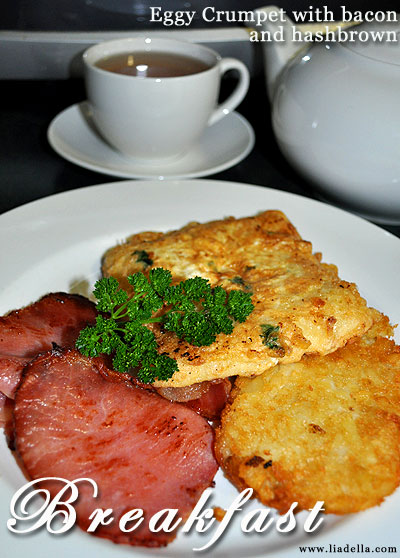 I Think the only celebrity Chef I like is Jamie Oliver, Not only he got a cute Brit accent but he is so charming and all his recipes are easy to follow.. (well speaking of his recipe I only tried maybe 5-6 recipes so far).
This Breakfast recipe from "Jamie at home" is easy and really nice to have. I modified the recipe a bit, because I haven't got some the ingredients hehehe..and I add some hashbrown as well.
I am not really a breakkie person however if I woke up about 10am ish I can eat last nite left over such as Nasi Goreng or any asian food :). I can't eat cereal or even toast in the morning.. (unless if I have to).It just seems not right for my stomach.
Sometimes I make a big breakfast for my husband, and he always happy to eat them haha. He can't eat Indo breakfast otherwise I will make him Rice Porriage with egg hahaha.. or even Coconut rice with peanut chilli sauce with fried rice noodle haha..or maybe Rice cake in spicy coconut gravy haha (speaking of this dishes, I can't wait to go to Jakarta in August!!) we'll see if my husband will survive!! LOL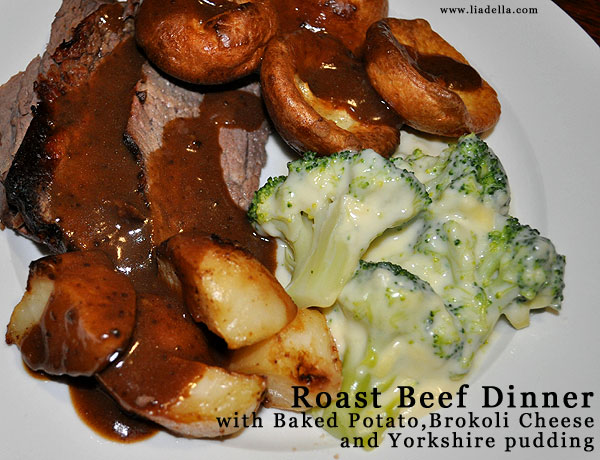 This week is my husband turn to cook,He showed me how to make this roast beef and the rest of the dinner, It's easy but I will let him do this dish anyway 😛
The Roast was wonderful, The potato was the best it's really crispy in the outside. I am not really like cheese however the brokolli cheese was great too. The Yokshire pudding was always complete the dish.
Distraction… *again* I really can't wait till I go to Jakarta…. We even got invited for my best friend birthday party already.. hm… party party party again.. and it's gonna be beach party !! YAY… haha