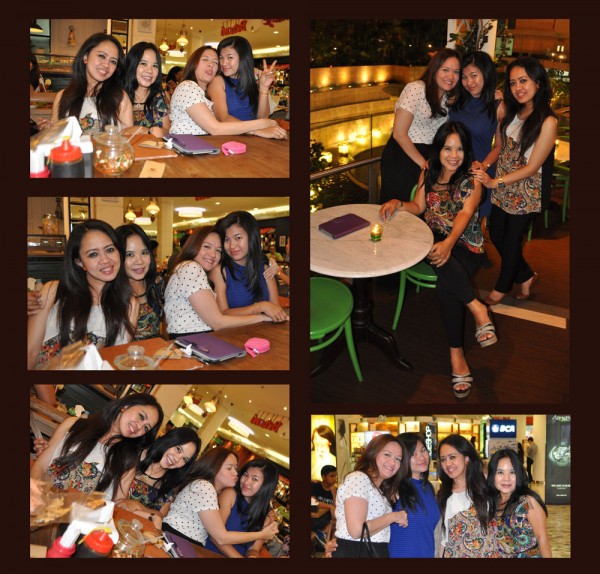 Cafe Batavia Senayan City Jakarta April 2014
Went back to my home town with hubby during my Birthday this year, and met my junior high girls for dinner 🙂 for me these girls bring lots of good memories while I was in Junior high. kmrnn pas ktman ya ampunn rame nyaaa padahal cuma ber4 berasa seluruh kelas ikut reunian hehehe.. seneng bgt bisa ktman ama mrk. apalagi pas crita2 tentang usil2an  jaman smp dulu astaga kok rasanya nakal sekali ya kita? dan yg buat gue merasa kerasan kok ya kalian semua tetep seperti yg dulu.. few changes ( in a good way) but personality masih aja spt dulu.. very genuine dan apa ada nya.
Jadi inget dulu lari2 di menteng pulang sekola mencet2 bel rumah2 mansion lari2 sampe satpam teriak2 dasar kalaina anak2 bandellll.. hahah.. naek bajaj ke familia menteng cuma ya beli kertas surat .. makan ke Dairy Queen patungan minum teh botol di jalan hihihihih.. nonton di TIM sambilan berharap ketemu sapa tuh Ryan sapa tuh lupaa gue.. ama apaaa yaaa spt nya yg bisa di sebutin disini krn sensor bwakakakkaa.. naksir cowo yg dulunya cuakeppppp sedunia skrg botak lol hehe.. oh trus not to mention Rida fav pak roto gara2 ngajak nila maen dampu di math class.. eh sialaannn gue cuma nyengir ajah kena getahnya juga di kick out man!! ya sutra lahhh eiye n rida nyantap somay aja di kantin sekolah hehe 😀 or Ola yg berteriak2 ketakutan pas awal2 gue nyetir bwakakakkaka.. sorri ya la.. dulu kan biasa mo gaya baru dpt mobil pingin bisa pro nyetir walopun ajrut2 an ngerem nya.. lah abis manual sih coba otomatik dulu mobil gue kan pasti mulus jalan nya… hehe..
sayang kita nga sempet berkaraoke yaa. padahal gue dah siap2 mo rekamin loe2 pada karaokean hehe.. lain kali kali ya girls.. tapi janji ya jgn kagum dengan suara gue hahahahhaha 😀
was really2 nice to see you all.. till next time ya.. love u all n miss you all. xx