Sunday Night..
TC will have their "Teddy Bear Class Picnic" tomorrow morning, and we will provide cupcakes 🙂 what else? I made the theme with Tiny Teddy and a banner "TA 24 Teddy bear Picnic" and decorated with some sugar candied. We think its cute and very easy to make, I have baked 25 cupcakes for TC's class picnic and 10 for us, undecorated.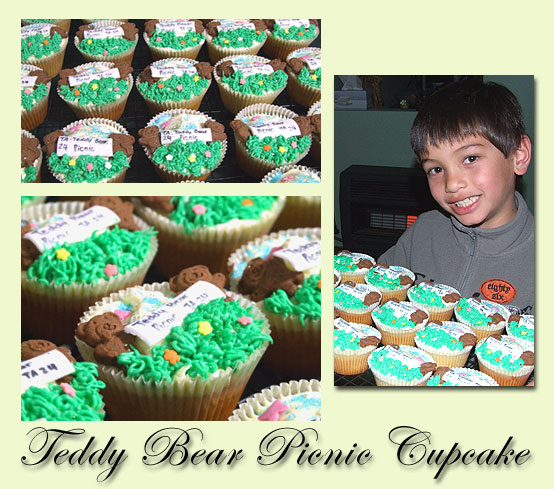 I decorated 3 cupcakes for my husband though haha.. its "Teddy and Heart Cupcake". Its so cute for valentine which we don't bloody celebrate hehehe.. I do celebrate everything 😀 as long as makes me happy.. after all I am a women 🙂
I do celebrate all kind of crap anyway eg:
First month wedding anniversary

or whatever I want to call it haha… (see what Stu have to put up with???)

"A very thoughtful wife". 🙂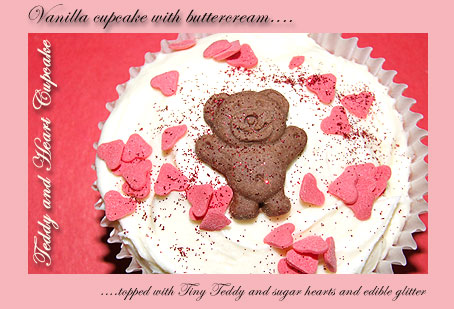 …Cupcake for my sayang… for Happy Monday Morning
On Saturday dinner,
I especially made this dish"Ayam Bakar Bumbu Rujak" (its time consuming but worth it, Its Grilled Chicken but been cooked with some spices until tender before you grilled it, I made some for my self,my husband and my twin boys.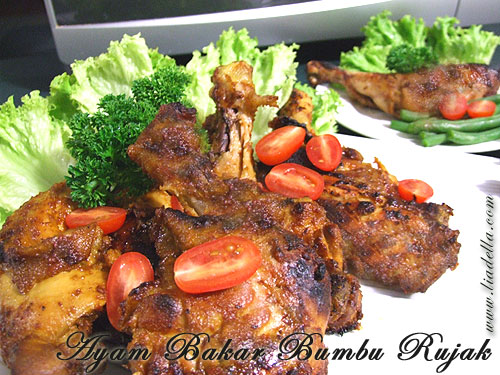 Stu said: ENAKKKK BANGEDDD!!! hahaha
Due to my step kids don't eat chilli, I marinated some chicken especially for them, well actually they grilled chicken way to easy to make, they loved it too. 🙂 I decorated the plate with vegetables for them hahaha to encourage them to eat more vegetables, and Jamie ate all his dinner.. Emily only eat the lettuce and the beans,Tom ate all his dinner as well and Cameron ate his dinner too with extra tofu..and ABC sauce (its sweet soy sauce) 🙂 he is so Indo.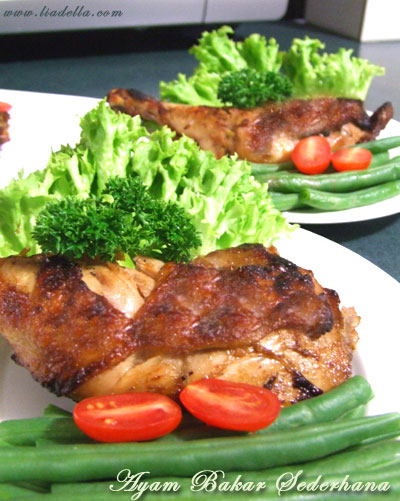 Jamie and Emily "Grilled Chicken" with lettuce,tomato and steamed beans.
Our Favourite Dish of the week:
Spaghetti with Anchovy and Rocket salad yup..I made this pasta again.. coz its taste soooooooo good.. I can eat this dish 2 times a week maybe.. its just so quick,healty and easy to make, the anchovy taste so saltyyy.. and the chilli taste so good and with bit of lemon and topped of parmesan cheese and extra virgin oil..gosh.. delicious.. in fact my mouth watering while I'm writing this 😀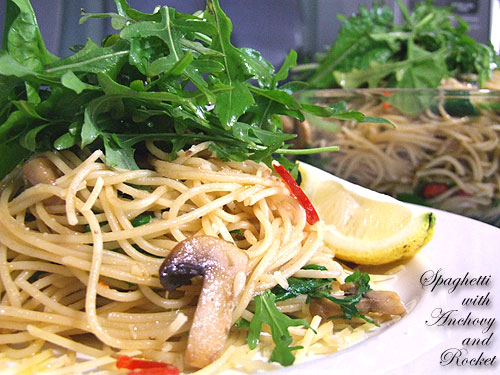 My favourite stir fried spaghetti by Jamie Oliver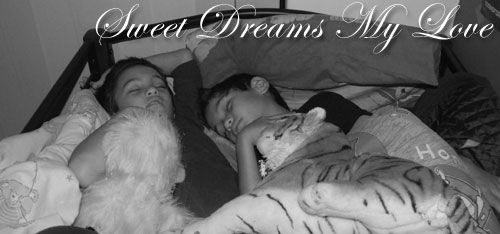 No matter how much they don't like each other or annoys each others sometimes, they always company each other and protect each other some nights when they have nightmares, usually Tom end-up in Cam's bed, even though Cam's the one who have a nightmare 🙂
Love you both lots
xx Mum.